Presenting artwork at Elaine Fleck Gallery
This March was a bit of a coming out party for me. For the first time in a decade (since 2010) I was out publicly in Toronto showing my artwork. On March 5th around 8 p.m. I nervously greeted a crowd of people at Elaine Fleck Gallery (1351 Queen Street West, Toronto) and presented "Idol Woody".
A 60×40″ painting on birch that I spent 2 months painting from late 2019 to January 2020. I have already given a detailed walk through of its creation through a 14 minute video on my YouTube Channel, but doing that in the safety of my basement compared to a crowd at an upscale commercial gallery was a unique and different experience for me.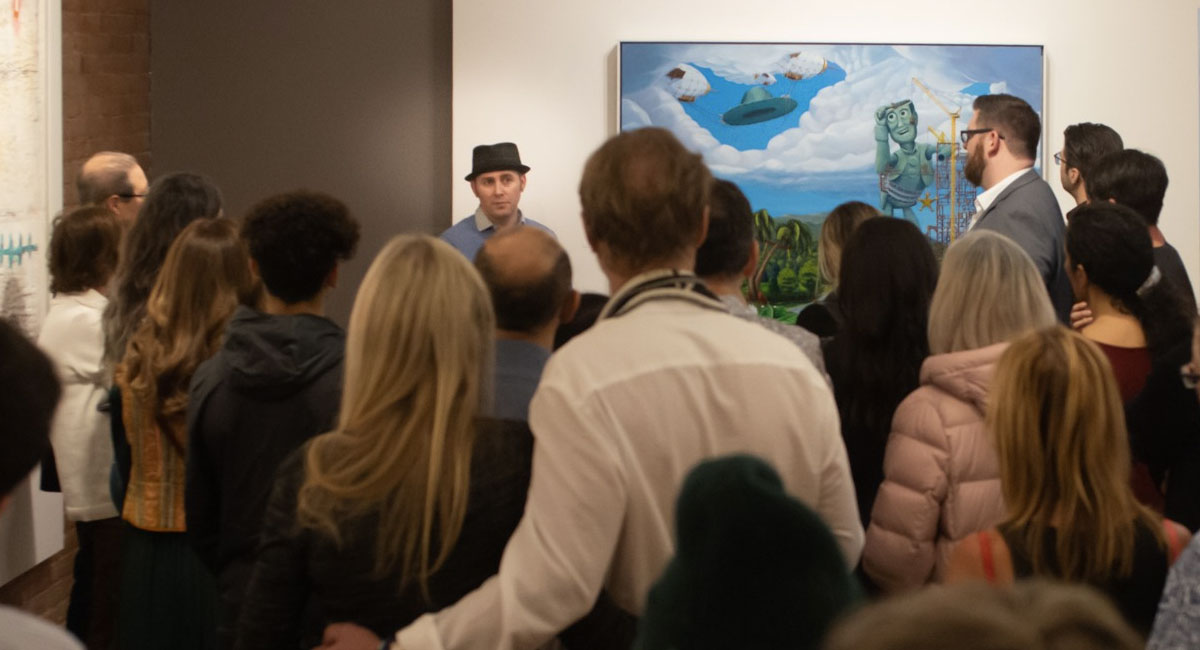 I've presented in boardrooms and offices and schools and even in a design conference before in regards to my other job as a Creative Director/Art Director. But sharing something with no brief, no rules, no guidance that you created yourself in seclusion is terrifyingly exposing. I don't recall what I said. I was told I didn't stumble too much or ramble too much so hopefully it made sense. I did help break the ice afterwards to talk about the painting in more detail with patrons who came out for the group show.
The new work was defined by the same sense of whimsy and the same interests in pop culture and modern commentary, but more surreal and detailed. I wanted my work to take on a bigger sense of depth in story telling and craft. Some of the feedback I did get during the show included:
People liked the craft and smaller details
People got lost in searching the painting for the things like the visitors working and hidden elements
People liked the overall movement of the piece and how the composition moved them through the painting
It inspired people to think about other characters and things to bring to life – like Wall-e for example.
Hopefully you will also be excited to visit the gallery this month until March 18th to see the painting and again in June to see a lot more at my Solo exhibit – including finally being able to see my large scale theme park paintings on public display. If you would like to attend the private reception on June 4th please contact the gallery to be added to their list.
More details coming in the next couple months!