---
Todd Lawson .com is a collection of ART I've created, WORDS I've written and PROJECTS that I've worked on since 2001(CV). I have worked at all levels of the creative process in a variety of fields. I have created, lead and influenced the execution of globally award-winning creative solutions in roles ranging from Chief Creative Officer, Vp Creative Strategy, Creative Director, Associate Creative Director, Art Director, Designer, Writer, production artist, animator, 3D designer, direct client contact and managing director. In that time I have worked in marketing / advertising, design, illustration, CGI, publishing and software product design industries (SaaS).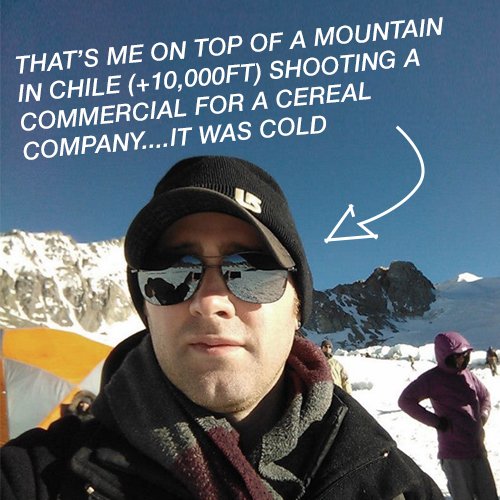 Currently I work at Vicimus as Chief Creative Officer; the gatekeeper for the company's creative pulse on design direction, UI and UX, product development, marketing and creative services and idea mining. Internally working on overall department process & operations, and mentoring & guiding a team of very dedicated creators. Previous to this position I worked at Dashboard (acquired) as their CCO, before that at Grey Canada as the agency's Digital User Experience Lead and Associate Creative Director – where I helped the company become one of the most respected and awarded Canadian Advertising agencies including the 2013 Agency of the Year by the Advertising & Design Club of Canada. And then before Grey back at Dashboard as a Senior Art Director and other firms earlier on.
My work has garnered international recognition within marketing communications and the consumer business industries. In 2014 & 2015 being ranked as one of the top Art Directors in the country by Strategy Magazine's Creative Report Card (9th and 15th respectively) including multiple Cannes Lions, Cassies, ADCCs, LIAs, Marketing, Communication Arts and other awards and accolades. I live for over-thinking, over-refining, over-pushing and creating a Full-Stack Creative Culture where expectations are to find a solution even if you have to teach yourself a tool or skill to do it.
In 2017 I relaunched my branding company as a clothing company: Miner Thought which provides original shirts, hoodies, hats, and more for women, men and kids. It continues to be a passion project on the side.
Timeline:
Chief Creative Officer | Vicimus 2019 – Present
VP, Creative Strategy | Vicimus 2017-2019
Creative Director | Strategy Mob 2015-2017
Chief Creative Officer | Dashboard 2015-2017
Associate Creative Director | Grey 2012-2015
Senior Art Director | Grey 2010-2012
Senior Art Director | Dashboard 2007-2010
Art Director, Designer, Illustrator, 3d Artist & More | Various Firms 2001-2006
Business Skills:
Executive team Experience, Team and Departmental Management, Client Management, New Business Development, Internal Planning, Budgeting, Resource Management, Project management, SOWs, Estimates, Process Development and deployment
Creative Skills:
Creative Direction & Strategy, Art Direction, Concepting, Branding, Design, Illustration, Social, Digital & Traditional Marketing, Writing (short form, long form, scripting)
Information Skills:
UI/UX, Wires, Architecture, Prototypes, User Testing, Documentation, BRDs, Product Development, Roadmaps
Social Skills:
Interpersonal Skills, Public Speaking, Storytelling, Mentoring, Teaching
Predictive Index Profile: Scholar (read more)
Data Driven, analytical, Strong discipline and execution, Organized and thorough, Autonomous, Deliberate, Introspective, Task Oriented, Freedom from micromanagement.
OFF SITE LINKS: LinkedIn | Facebook | Instagram | MinerThought
Contact via cell: 647-338-2350
email: prolific @ [siteURL] [dot] com
---
---
Nice Things Other People Say…
Todd's strong leadership, communication and customer service skills were the reason this project was such a huge success for the AutoShow. It didn't matter what the task or request was, he made it happen for us. We cannot thank him enough as he was a true pleasure to work with!

Stephanie Thompson | Manager, Marketing & Operations | Canadian International AutoShow
He embodied all of his creative works characteristics while also being one of the most calm, cool and collected creatives that I've had the pleasure of working with.

Barry Hillier / Co-Founder & CIO / EquoShift
Todd is a talented senior creative that has incredible dedication and passion. His ability to understand the objectives and deliver relevant, exciting creative is outstanding.

Brian Steinhauser / Co-CEO / Discovery Loft
Todd is one of those rare creative professionals who not only produces beautiful and inspired design, but actively leads the process around it. He understands the sweet spot where business objectives and creative innovation intersect and is extremely adept at bringing fresh insights to the projects he works on.

Gayle Lunn / Partner / Rebelles Research
Read more nice things people say about me on LinkedIN
Write a something nice about me on LinkedIN
---
---
LATEST WORK-WORK
---
CAMPAIGN: Try Bumper "Tear"
-
Automotive retail lives in a 30 day cycle. So we launched a campaign to show them our product, Bumper, can help make that month easier, faster. (more)
PRODUCT: OnlineKars – Automotive Auction Platform
-
OnlineKars is an automotive Auction platform based in the US that allows dealerships to quickly list and auction off vehicles directly to consumers... (more)
LATEST ARTWORK
---
ILLUSTRATION: Strategy Mob Magazine Cover
-
Painted cover for Strategy Mob Magazine - a portrait of Automotive Industry guru Scott Monty... (more)
ART: Revel In The Maker's Wake
-
Revel In the Makers Wake from "The World Rediscovered Collection" (A Disney World Inspired Series)... (more)
LATEST WORDS
---
ARTICLE: Stop Filling Feeds With Your Video Litter.
-
Every day my feed is more and more filled with talking heads with little to say.. (more)
ARTICLE: Abstraphic – Theory in Abstract Design
-
Where does a good idea come from? I've sat in countless brainstorms... (more)