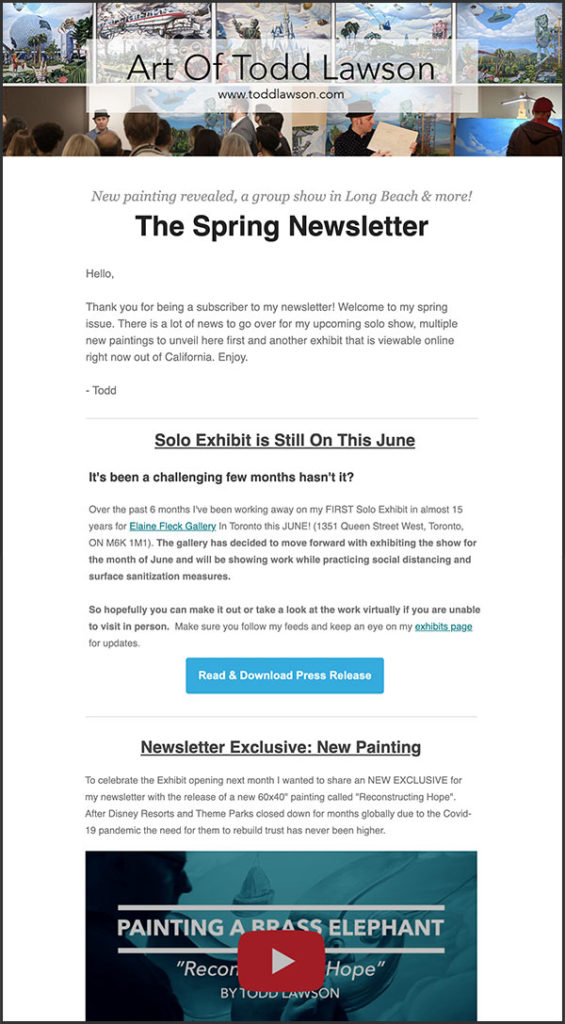 Newsletter Sign-up
Receive news and updates directly into your inbox…occasionally. I don't send them all the time, but I will send them with there is something new to share or when new things are posted for sale etc. And I write them myself – sometimes without any spelling mistakes!
WHAT IT COVERS
News & updates
Private art viewings of work before it's revealed
Work in progress photos and videos before they are posted on social media
Special offers
E-ArtMail member only sales and more!
---
IF YOU ARE A SUBSCRIBER AND DIDN'T RECEIVE IT BE SURE TO CHECK YOUR SPAM FOLDERS.
IF YOU STILL DIDN'T RECEIVE IT CONTACT TODD TO VERIFY YOUR SUBSCRIPTION.
---
Explore ToddLawson.com…
---
Latest Website Updates
My Art Videos

Various videos from my YouTube Channel. I am hoping to create more time lapse and talking presentation videos in the future.

PRESS RELEASE: Todd Lawson Solo Exhibit at Elaine Fleck Gallery, June 2020, Toronto

This June I'll be doing my first solo show since 2005 at Elaine Fleck Gallery where I am currently a represented Gallery Artist. The gallery will be open with social distancing protocols and by appointment to view the work.

Presenting artwork at Elaine Fleck Gallery

This March was a bit of a coming out party for me. For the first time in a decade (since 2010) I was out publicly in Toronto showing my artwork. On March 5th around 8 p.m. I nervously greeted a crowd of people at Elaine Fleck Gallery (1351 Queen Street West, Toronto) and presented "Idol Woody".