Represented Artist with Elaine Fleck Gallery: Todd Lawson
Some exciting news to start off 2020. I am now a represented artist with Elaine Fleck Gallery in Toronto. This is a big step for me. After 16 years of doing it on my own and working with galleries across North America on group and double billed shows this marks the first time I have decided to work with a commercial gallery as a recognized artist in their roster.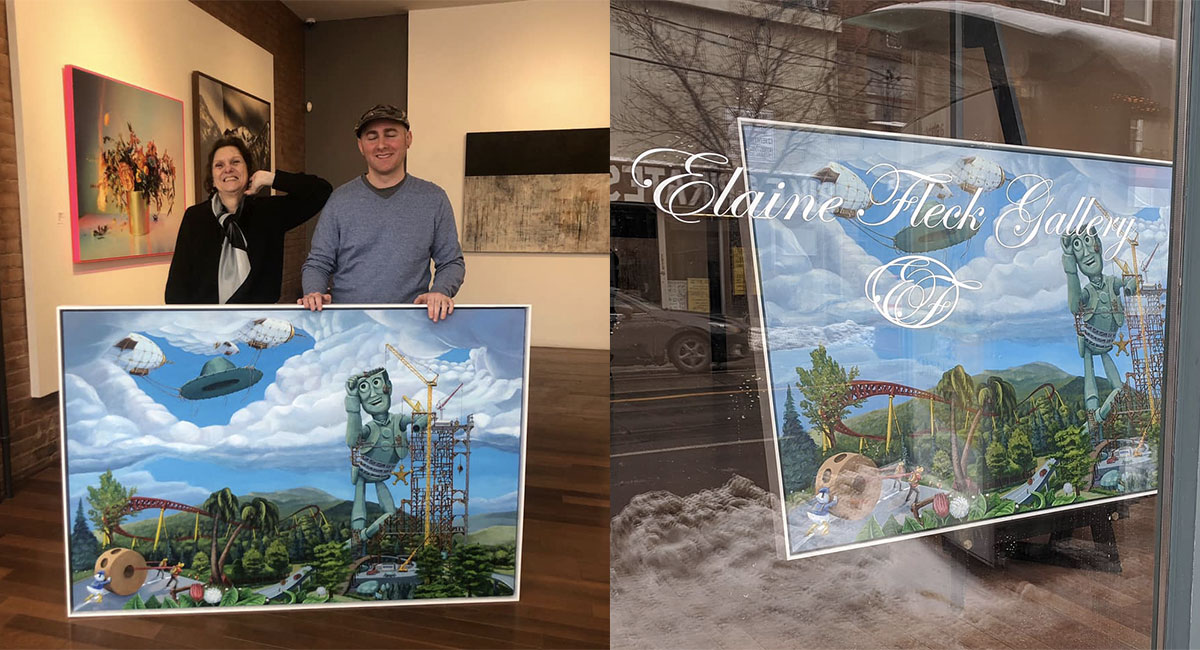 This does a few key things:
It helps push me to create new work. Now that I have a gallery behind me who is actively looking to market and sell my work to Patrons in Toronto I have someone to mentor and push me in gallery owner Elaine Fleck.
It gives me a dedicated platform to grow a following on. When you do a lot of group and multiple artist shows all over the place as I have done since I started showing my work in galleries in 2004, you are constantly fighting to find an audience. Every city or venue or audience is likely new to your work so you are always starting from scratch. This is great for exposure but hard to build a following of collectors out of.
I will be moving to larger work. I have always been prolific in shows because I painted small. In my Sacramento two-artist show back in 2007 I created over 20 paintings. They were small which let me ship them easily and do a lot of them. But they were also – as older work has been – not as deeply planned or thought out. Working larger lets me makes the work stand out better, can be more complex execution, communicate the ideas better, increase the collectability of the work for patrons who buy large work for their home or business. It does mean I will create less for shows and I will focus on 30×40 and larger work for the Canadian Market.
It gives me confidence to take the time and find my voice. When you are rushing to fill or send to a bunch of smaller work for shows you are focused on on filling walls with a lot of work and not always as focused on really deciding what you want to create or say. You rush. The Gallery has confidence in me and wants to help me find the audience and ideas over a longer time frame.
It gives me credibility. Though it's fair to say in the last 16 years I've been a gallery artist not just an illustrator simply from showing as much as I have and have a bit of cred – it's not the same as larger dedicated shows and a more regional focus in a market let Toronto. As someone who started as an illustrator and was part of the mid 2000's pop surrealism and low brow wave of North American resurgence I have done well in the USA and have not has as much luck in my own backyard. I blame that more on having trouble breaking into the Toronto market as well as the subject matter in my work not exactly being 'traditional' Group of SevenCanadian fine art….I just painted a 60 inch painting of Woody from Toy Story after all. Hopefully this allows me to continue to explore the subject maters in pop culture and nostalgia and expose my work to a larger local audience to sell a few works. You never really know, but that's certainly the goal.
Are you reading this from within the GTA? Ontario? Canada? or Globally?
So if you do live in the GTA and collect art or know people that do collect art please share the news and gallery with them. The reality is artists only grow with patrons if they start to come see the work. And the next 12+ months will determine where my journey goes next. I hope to keep with these larger works and local exhibits.
This will all start on March 5th from 7-9 pm where my work will be shown in a group exhibit at the gallery for the first time and then continue in June 2020 with my first larger more dedicated show with multiple Disney Theme Park and Idol Character paintings.
I hope to see you there.